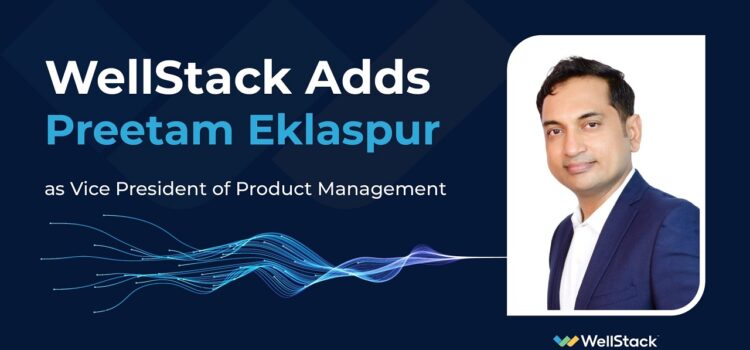 WellStack Adds Preetam Eklaspur as Vice President of Product Management

MADISON, WI—WellStack, a leading provider of healthcare data and analytics solutions, is pleased to announce the addition of Preetam Eklaspur as Vice President of Product Management.
Preetam is an entrepreneurial healthcare IT professional with over two decades of experience. He has built products and solutions for a wide spectrum of healthcare organizations, including Fortune 500 companies. Preetam specializes in enabling organizations in leveraging technology to address healthcare challenges around care outcomes, patient engagement and cost of care. His portfolio of products and solutions span across EHRs, HIEs, clinical decision making, claim and care analytics, disease registries, remote healthcare, population health, RCM-FWA, SDOH and HEOR.
In his previous stint as an entrepreneur, Preetam co-built a healthcare AI platform that integrates, manages diverse health data to provide self-service AI for care enablement. Lately, Preetam has been focused on leveraging data, AI and machine learning to achieve actionable insights for healthcare stakeholders, leading to better care, eliminating waste and managing risks around outcome and cost.
Preetam brings to WellStack the right mix of subject matter expertise in healthcare, user experience and tech that make a product leader successful. As the VP of Product Management, Preetam will lead the strategy and roadmap of WellStack's platform to help our healthcare partners achieve their current goals and position them for the future of healthcare.
About WellStack
WellStack offers healthcare organizations a modern, out-of-the-box data ecosystem that creates a single source of truth necessary for enterprise-wide decision-making. With a low-code/no-code approach, WellStack democratizes healthcare data and accelerates analytics by providing multi-channel data access to decision-makers, analysts, and researchers with varying technical skills. This strategy helps organizations maximize resource utilization by simplifying report development and analysis, resulting in a jumpstart on their data science journey with the flexibility to innovate and scale to meet future demands.
Media Contact:
John Rausch
john.rausch @ wellstack.ai